Design Details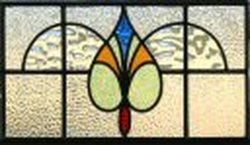 Customization is one of the hallmarks of Country Woods Designs. We help you design each piece from start to finish. All the details of the design process are discussed and carefully selected in order to complement your personal needs and environment. Once the dimensions of the piece have been determined, we will help you choose the type of materials used, the hardware, feet, color, and more.

---
Materials
One of Angela's passions is hunting for and finding old architectural materials. As a result she has a collection of unique vintage panel doors, antique divided-light wood windows, vintage shutters, antique stained glass, antique ceiling tin, antique hinges and knobs, vintage corbels, vintage cast iron feet and wood legs. What you see pictured here is a sample of design possibilities.

Samples of our Custom Door Designs
Each door is custom built and designed for your personal preference. You can choose the following features: shutters, tin, bead board, arches, stained glass, fabric, molding and trim, bi-fold, panels, windows, and more.
Mountain Rustic door Panel


Assorted Vintage Stained Glass Doors

Plank Panel With Arch Design

Raised Panel Door Design

Raised Panel Drawer Design


Multi Color Vintage panel

Additional Artistic Door Designs
We collaborate with artist Holly Burger from Taos, New Mexico. Holly creates these beautiful tin and copper panels with a patina finish. These are one-of-a-kind custom order pieces that can be added to any Country Woods Designs furniture.
Holly's Crow

Holly's Flying Fish

Holly's Poppies

Holly's Aspen Tree Panel

Holly's Pescado Doors

Holly's Abstract Panel

Holly's Cross Of Hearts

Two Crosses